I'll be making the trip back down to Iowa for a fun little double header.
Friday night, Iowa fans will usher in
a new era of basketball
as
Todd Lickliter
mans the bench for his first official game as the head coach of the men's squad. While this season isn't projected to be one of the ages in regards to wins, there is a certain buzz back around Carver Hawkeye Arena. Ticket sales are already
ahead of where they were last year
. There was good article in The Sporting News on Coach Lick, entitled "
Lickliter trying to change culture at Iowa
." So Tony Freeman is
out for 4-6 weeks
with a broken bone in his 5th metatarsal, which means the Hawks will be without arguably their best player. Worse yet is that it puts the roster size down to a paltry 10 players. Make no mistake, all ten players will have a role on this team. Jeff Peterson is the obvious candidate to step up and fill Tony's shoes. I, for one, am a huge fan of his. The kid is mature beyond his years; I am very excited to see him on the court Friday. Other than that, I would expect a low scoring game (somewhere in the high 50s to mid 60s). I don't think Iowa will blow out the Bengals, but I do see a double-digit win for the Hawks.
I'll get some shuteye and then wake up bright and early to do some tailgating at the Myrtle lot and get ready to see Iowa become bowl eligible. Who would have thought that was possible four weeks ago? Minnesota comes in with one of the worst defenses in the entire nation, and one win on the season (over a MAC team in OT because of a missed FG). Minnesota is hobbling into Kinnick. All three defensive captains - Mike Sherels (linebacker), John Shevlin (linebacker) and Willie Van De Steeg (defensive end) -
won't start this week because of injuries
. Well, they won't start at least... they are on the depth charts, but they are still nursing injuries. Also, Thomas is doubtful, Bennett is hurting and it looks like Pinnix might not play. Brinkhaus is still loopy from a concussion and is questionable. And if Brinkhaus doesn't play (he is day to day), then MN's line (one of the best in the nation) is going to have a huge hole in it. Iowa should be able to put pressure on Weber, who is closing in on a lot of passing records.. he needs just over 450 passing yards, 3 TDs, 87 total yards, and a few attempts to break them. However, Minny gave up 4 sacks last week to Illinois. Their defense is awful, though... just reeling right now. Very inexperienced and is going to set a record for most yards given up. I know I've been begging Ken O'Keefe to give it to Albert Young, but this week we need to air it out. Minny's defensive backfield is so green, you think it was spring time. I do not want to get overconfident about this game, but I really don't see Iowa losing to the Gophers. On a side note, Albert Young is closing in on 3,000 career rushing yards; here's hoping he hits that plateau this Saturday.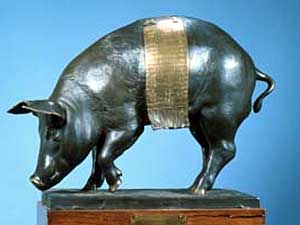 On Iowa! Let's take back Floyd!