After weeks of searching for a new school, Tony Freeman is a Saluki.
The Southern reports (and badly, I might add) that Freeman
has verballed to play
for Southern Illinois.
My favorite (or the complete opposite) quote was this one:
"
The junior planned to return to Iowa City, Iowa, for his senior season, but was told by Hawkeye coach Todd Lickliter he wasn't in the plans for the future of the program."


That is misinformation at best. While I have been in Tony's corner in this decision for him to move on from Iowa, that quote is so far left, it's ridiculous. I do think Lickliter could have given Tony a fairer shake in the matter, but ultimately it came down to Tony not fitting the system. Freeman had to have been upset after his post-season talk with Coach (representative of his quotes in the paper), however none of us know exactly how that conversation went. The fact is the meeting held between the two is only going to be known by those two individuals. We've heard Tony's side, but we will never hear Lick's side.
I wish Tony best of luck in the future, he is now out of the Iowa Hawkeye family and has joined the pack of the Salukis.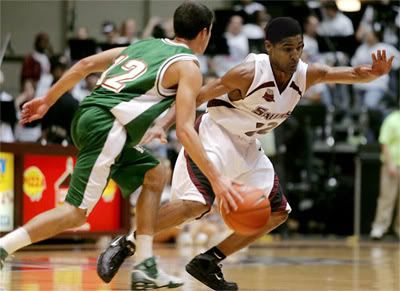 Tony's D will come in handy for the Salukis in 2009.
A look back at some of TF highlights I made of the years:
Have fun back in Illinois, Tony.