VS.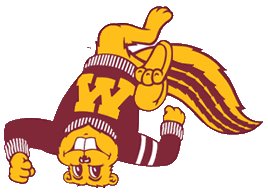 GAME INFO: Sat., Nov. 22, 2008 - 6:00 PM CST - The Metrodome
; Minneapolis, MN
IOWA: 7-4 (4-3) NR; MINNESOTA 7-4 (3-4)
TV COVERAGE:
BTN (HD)
IOWA'S GAMEDAY CENTRAL :
VIEW HERE



LINE:

Iowa is a 6 point favorite on the road.
---
All good things much come to an end, and even some awful things must come to an end, as well. Today marks the day when the last Minnesota - Iowa football game will ever be played in the Metrodome (i.e. - Kinnick North). Floyd of Rosedale has been in Iowa City the past year and I fully expect him to remain there. Minnesota has lost 3 in a row (I predicted they'd drop the final 4 of the season at the end of October), while Iowa has won 4 out of their last 5. Iowa has a very good chance to wind up in a January Bowl game, something that would have sounded silly last month. As long as Ohio State and Penn State both get BCS bids (meaning the Buckeyes need to beat Michigan and hope Oregon St loses one of its last two game), the Hawks, with a win, will likely be headed to Tampa Bay and the Outback Bowl. Even if Northwestern finishes ahead of Iowa with a 9-3 record, you can bet that the Hawks will get taken by the Outback. Furthermore, don't be surprised that even if Iowa loses and NW wins, that Iowa doesn't still take that bowl from NW even though it has 2 fewer wins (the Outback is one of the bowls that is exempt from the 2 win rule, as is the Alamo).
We are heading to Minneapolis shortly, to sit amongst the Gopher season ticket holders midfield, 20 rows up. Should be a blast - going to hit up the warehouse district before and after the game.
Enough of the babble - let's look at this game...
Eric Decker has been penciled in to start this game, but I have a hard time thinking he is 100%, or even 50% for that matter. A high ankle sprain is a hard injury to kick in a few weeks time. The Gophers are going to need to him to stretch Iowa's secondary. Without Decker, Iowa is going to be able to sit back in their regular defense and allow MN to dink and dunk, but I would be very surprised to see them do deep on Iowa with their current personnel. MN is also very young up front, so Iowa DL should be able to do a lot of damage. Adam Weber scares the crap out of me with his moxy and escapablity, however if Decker isn't effective, the Hawk will be able to spy him all game (a la - Juice Williams).
Iowa really doesn't have much on the offensive side of the ball to work with... unless you are talking about Shonn Greene - oh yeah, him. The nation's leading rusher and likely winnner of the Doak Walker Award and undoubtedly a first team All-American. Greene is going to run wild on the Gophers - look for 200+ yards in this one as well. Stanzi, once again, just needs to manage the game for Iowa to pull out the win.
Offensive Player of the Game:
Shonn Greene
Defensive Player of the Game:
Pat Angerer
---
PREDICTION:
Iowa - 38
Minnesota - 27
Gopher administrative bodies are hoping the goal posts can come down quickly tonight.