VS.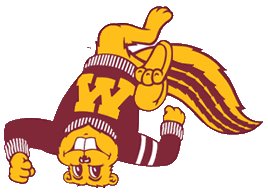 GAME INFO: Sat., Feb 9, 2008 - 1:05 CST -
The Barn
; Minneapolis, MN
IOWA: 11-13 (4-7); RPI: 140 / Minnesota: 14-7 (4-5); RPI: 86
TV COVERAGE: ESPN
The Battle for 6th Place in the Big Ten.
Both programs are in the middle of the first season with their new coaching staffs and both are overachieving in regards to preseason expectations by most people.
Each team has 4 wins in conference play, but the wins are sort of polar opposites:
MINNESOTA'S BIG TEN WINS: Northwestern (2), Penn State, and Michigan
IOWA'S BIG TEN WINS: Michigan State, Ohio State, Penn State, Michigan
The past 9 games, Iowa has lost a game followed by a win (or you could look at the last 8 games and say Iowa has won a game, then lost the next). Either way you look at it, Iowa has been getting better each game out in the Big Ten season. Minnesota, conversely, has been inconsistent. Whenever a team with any sort of talent steps on the court against the Gophers, they have trouble with them. Minnesota hasn't really been blown out this year, but still have trouble beating any team with talent. Put it this way, Minnesota's "best win" or "signature win" this season is... Iowa State (#110 RPI). The Gophers' resume is anything but impressive. Obviously, Iowa's resume isn't glowing either, but at least they have beat some quality teams this year and continue to impress with their defense.

Keys to the Game for Iowa
1.) Control the tempo, do not let the Gophers get out running.
2.) Take care of the ball. The Gophers have some of the most active hands in the nation. Tubby's team is going to play some tough M2M D in this contest.
3.) Rebound. Don't give Minnesota second chance points.
4.) Get Iowa's bigs involved early.
5.) Play within the offense.


PREDICTION:
I can't stand the Gophers, so it doesn't really matter if I look at this game objectively.
Iowa - 120
Minnesota - 7

(Iowa 68, Goophers 61)