VS.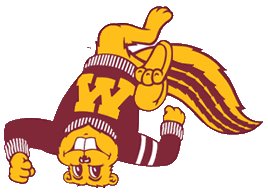 GAME INFO: Thu., Jan. 8rd, 2009 - 6:05 PM CST - Carver-Hawkeye Arena; Iowa City, IA
IOWA: 11-4 (1-1); POM: 48; RPI: 50 / #22 MINNESOTA: 13-1 (1-1); POM: 64; RPI: 31
TV COVERAGE: ESPN2
LISTEN ONLINE -
http://www.kscj.com/
LINE - Iowa is a 2 point favorite at home.
Minnesota has beaten Iowa only once in the last 9 times in Carver (and 4 straight in Carver), Iowa hopes their odds of winning will continue on that sort of trend. Tubby has the Gophers off to their best start in over a decade (thanks to a cupcake schedule that allowed them to remain in The Barn for the majority of their games). Iowa is undefeated at home (9-0), while Minnesota has only played one true road game (the other being a neutral site). The Gophs are ranked in the Top 25, but like their football team, they are very young and haven't been tested yet.

Minnesota natives
Tucker, Davis, and Brommer get their first shot against their home state in this rivalry. We'll see how much each of these contribute, however it's going to be Davis that will likely get the most PT of the trio. Tucker is still recovering from his illness (mono), so it's anyone's guess as to the amount he will play. Brommer just came off a 20 minute outing vs.
Indiana, and with the big bodies Minnesota will bring it's safe to assume he will get some time.
The Gophers have a pretty decent backcourt in Westbrook and Nolan. I'd put Nolan up there as one of the best PG in the Big Ten (just behind Talor Battle). Al has an insane A:TO ratio of close to 4:1, which is unheard of. Minny blocks a TON of shots, but that really should affect Iowa, a team that shoots and makes more threes than anyone in the Big Ten. The Hawkeyes will need to make their shots, though, as they are the worst rebounding team in the Big Ten.
Matt Gatens continues to impress. He is currently sitting at the top of the Big Ten in 3 pt % (54) and FT % (97). As of right now, he has my vote for Freshman of the Year in the Big Ten (my vote totally counts in my own head). Jeff Peterson has been hot and cold this year, but looks to have improved his overall game since last year. Jeff is 7th in the Big Ten in assists per game, however he is also 7th in the Big Ten in turnovers per game. The kicker in this game has to be Cyrus Tate. After putting up 22 and 11 vs. Indiana, it looks as if Iowa is starting look for him again like they did towards the end of last year. If Tate can do anything against the massive Seqouias that Minnesota is bringing, Iowa has a great shot to win this ballgame.
KEYS TO THE GAME FOR IOWA:
1.) Shoot Well from the Outside. They shot poorly vs. Indiana and it almost cost them. Minnesota won't be as forgiving.
2.) Play Solid D from the Guards. Minnesota has some good guards, so Iowa will need to pressure to keep them at bay.
3.) Take Care of the Ball. Tubby's defensive scheme will put A LOT of pressure on Iowa's guard, they'll need to slow down and handle the rock.
4.) Make Friends with the Refs. Iowa will need to play physical in this one. If the tick tack fouls are called, Iowa won't be able to compete.


PREDICTION:
Iowa - 60
Minnesota - 58