Last year it was the infamous Triscuit Cracker Box that went up against me...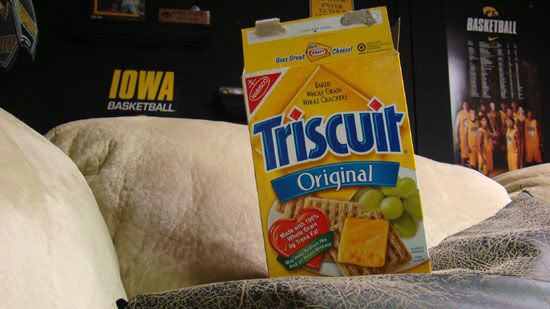 And it
FAILED MISERABLY
.
This year another contender steps up to the plate to prove once and for all that filling out your bracket might just be a glorious crap shoot.
Here was the premise. I printed out all of the teams (with their record to help him out, of course) and presented him with each matchup as it came up. I randomly chose which side each team was presented to him to avoid biasing the results.
The winner of the round was determined by staying in play the longest on the table.
Rulings included:
First team to be tossed off the table was out.
First team to be eaten (or inserted into the mouth) was out.
In the event of a tie, the top facing team in the mouth was out.
The NCAA Champion was selected by the first team chosen of the two contenders.
Let's Go! (NOTE: All pics are clickable for larger images)
Studying the Field
FIRST ROUND
Morehead State was the first to fall.
Ohio State suffered the same fate. Perhaps he has a vendetta against the State colleges?
Usually he likes Hug(gin)s, but the little man took down the Mountaineers
Midwest: First round winners
He just HAD to take down his dad's alma mater, didn't he?
West: First round winners
East: First round winners
South: First round winners
END OF FIRST ROUND
- He managed to keep three 1 seeds, three 2 seeds, and three 3 seeds.
SECOND ROUND
And DOWN GOES MICHIGAN STATE! Literally...
Sweet Sixteen, Baby! All the 3 seeds were knocked off, two 1 seeds and two 2 seeds still alive... and in all honesty, that West Region could really happen.
THIRD ROUND
Some of the Big Boys made it past the Sweet Sixteen.
FOURTH ROUND
A couple 5 vs 1 battles in the Final Four
FIFTH ROUND
Video coverage of the Final Four action:
Utah and FSU survive to play in the championship game - Two #5 seeds willed their way into the Championship Game.
CHAMPIONSHIP GAME

Video footage of the exciting Championship Game:


And the winner is....


.............................
UTAH!
Congratulations to the Utes out of the Mountain West Conference!
QUEUE THE MONTAGE!
Here are the brackets (clickable for bigger image) -
Pax's:
Mine:
I am really torn on the West. I think Missouri has a legitimate chance to get to the Final Four. Here's my alternate bracket: